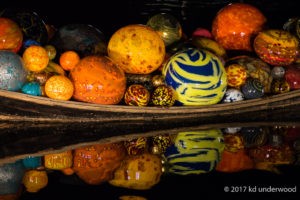 Susan and I had been planning to visit the Chihuly installation at the New York Botanical Gardens since we first discovered it was going to be in NYC during one of our visits.  My friend Harrison wisely advised to be sure to visit at night as the exhibit lighting would be superb, and he was right.  Seeing Chihuly glass in daytime light is beautiful, but seeing it illuminated at night in a garden setting was sublime.
We spent a couple of hours walking through the beautiful grounds, gardens and conservatory discovering one unbelievable display after another.  Some pieces were suspended, and some were floating.  All were next to or in-between plants in a natural setting.  Additional pieces became an arrangement unto themselves.  Not sure what to expect, this Chihuly exhibit turned out to be the most interesting and beautiful thing we did in NYC this year.
If you are visiting a city where there is an Chihuly exhibit or one comes to your local art museum or gallery be sure to attend, you will not be disappointed.
All images were taken handheld at ISO 2000-2500 with Nikon D750 w/ Nikon AF 28-105mm f1:3.5-4.5D zoom lens in RAW format processed in Adobe Lightroom 5.7.